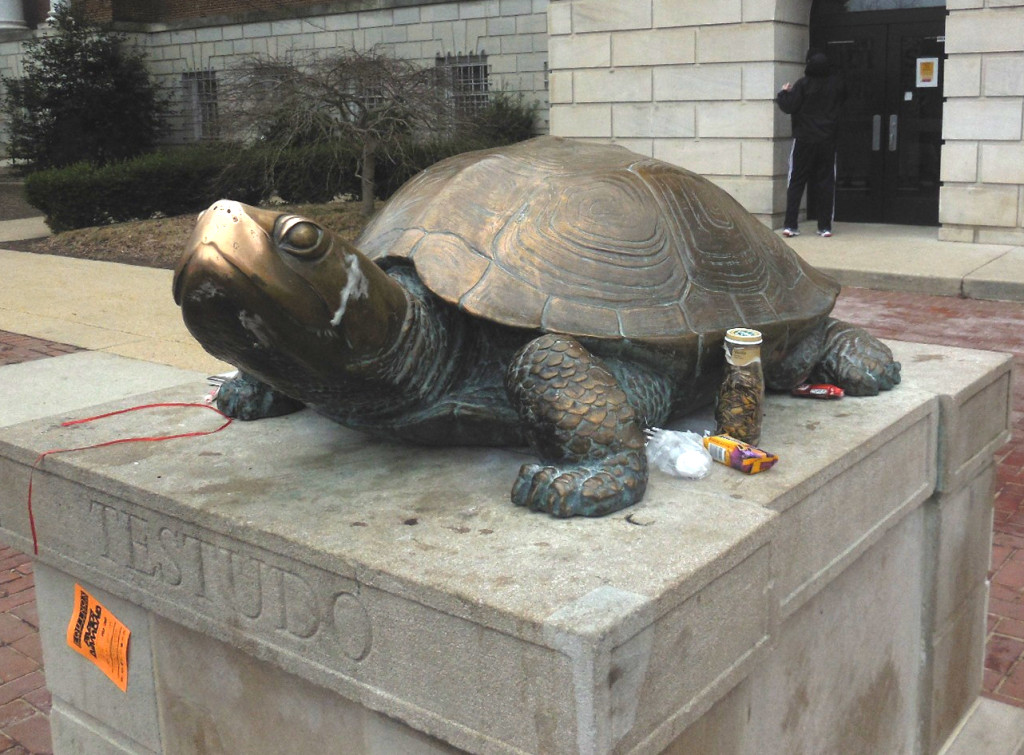 Ok… I'll admit that I let the day's events drive the photo more than did the word of the day.
That being said, this little guy actually works pretty well for discussing sacrifice.
The earliest form of sacrifice that we knew within human society was the abandoning of that which we valued at the foot of an altar.  The hope was that the gods would see our sincerity in our allegiance to them and would throw down their favor upon us.  The students at University of Maryland—some through a sense of superstition, others out of a sense of fun—carry on this ancient ritual by laying gifts of candy, drink, and other goodies at the food of Testudo in the hope that they might be granted an extra boost of wisdom on an upcoming exam.
But it would be out of character for me to stop there.  In our modern world, our sense of sacrifice is not quite as overt.  We don't maintain the same level of ritual.  We seldom lay down things (or people) of value at the foot of a statue.  What we give up is our time, our sense of self, our sanity, our passions, and so much more.   The most likely place we will lay them is at the foot of the altar of "career."   We do so in the hope that if we give up ourselves, that perhaps the gods of industry and business might grant us an extra boost of pay and self-worth.  (See the horrific Cadillac ad for a perfect example of the "theology of  sacrifice and artificial reward".  And also the "redemptive response" by Ford.)
Perhaps we have not learned as much over the millennia as we would like to believe we have.  Perhaps we understand even less.  Perhaps we still need  prophets to point out the errancy of our ways.