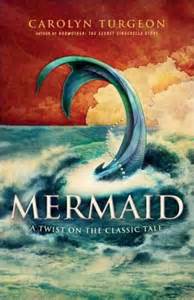 Mermaid: A Twist on the Classic Tale by Carolyn Turgeon
My rating: 3 of 5 stars
The author adds a very interesting take on the classic story of the Little Mermaid. While the story follows the same general plot line, the characters themselves are fairly different and there is a new dimension painted into the backdrop.
I only gave this story three stars, however, because despite an excellent plot setup, wonderful imagery, and unique character development, the ending falls short. I don't mind that all the tricky entanglements were resolved. But it happened too cleanly and too quickly. I found myself mentally staring at the book asking, "what the heck just happened?" And my biggest peeve is that it ends with an unaddressed prophesy that was highly hyped in the first half of the story—not fulfilled, not thwarted, just forgotten.
I guardedly recommend this book.