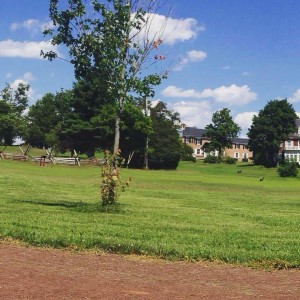 A whole week of deep discussions and of lots of play time, of time to breath and making new friends. In the midst of what is turning out to be a very long and fairly tiring summer, this one week in Gettysburg was just what I needed. Along with 17 other pretty cool Lutheran teenagers and some amazing adults, I had the opportunity to stay at the Lutheran Seminary of Gettysburg to grow in my faith and to live in one of the most welcoming and genuine communities there is. We talked about important societal issues, stories that we held close to our hearts, confusions that we've had in our beliefs, and most importantly we were able to laugh with one another.
Throughout the week we had more opportunities than just class or discussion time. A new friend and I played countless hours of foosball, several of us spent time painting, and we all played water polo one day. There was even a Gettysburg Museum to visit, a town with tons of ghost stories and great ice cream, and one lovely spot on campus where you could just sit and watch as things went by (this was probably the most serene and favorite place that I've been).
Each day started and ended with a worship service. At first I wasn't too sure about that because that is a whole lot of worship, but each and every one had its own personality and was absolutely beautiful. We worked our way through the advent and christmas season-yes in one week, yes in the middle of summer. It was always exciting to walk in our worship space and see how it had changed with each season. For advent we were the advent wreath and there was a table cross in the center, Christmas had us in two straight lines facing each other with an elaborate center table, and Epiphany was simple yet elegant. Honestly, this Christmas in July was one of the best that I've had in a while. There was an authentic sense of anticipation and then surprise the next day when we saw our cafeteria decorated (including a tree and presents), and the simple gift of a blanket and signed book was one of the most thoughtful ones I've received in a while.
So yes one week. And then we had to go back to reality where it was quite a reminder that not everywhere is as safe and open place as where we were. But now we have 17 new great friends and an overflow of memories that are going to have to carry us over until next year's Theological Education for youth (TEY).
God is real. God is good. God is faithful. God is my strength. God is my shield. God is love. God is alive.