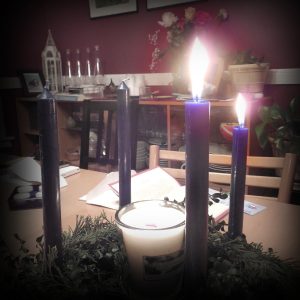 After 2 days of torment, the photo-a-day list finally smiled on me.
Not only was the word (candle) something easy to photograph, not only was a sitting at the table looking at our Advent wreath when I went to look up the word for today, not only was the camera just four steps away, but the word played perfectly into the theme of the weekend.
In case you missed yesterday's word, I was away with some youth from church at Chrysalis (the Metro DC synod high school youth retreat).  The theme of the weekend was "Casting Light."  We examined what it means to be "Light Casters" in today's world and how we should both avoid falling into the trap of "throwing shade" and how to support those who are the target of "Shade Throwers."  A single candle doesn't cast much light by itself, but in a dark room it makes a world of difference.  And, when paired up with one, two, or a hundred more, the effect quickly becomes dramatic!
This little light of mine… I'm gonna let it shine, let it shine, let it shine.