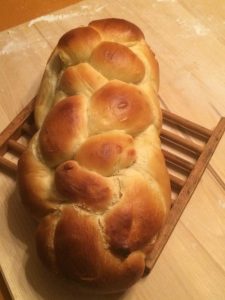 The following is a very subtle variation on a recipe found on allrecipes.com.  I began with the basic recipe, made some modifications suggested by a commenter with the name Feeding Frenzy, and added a couple of my own.
Valerie is the current master bread baker in the house, but we have both been attempting to perfect it for over 25 years now.  The loaf I made this evening may just be the best bread I've ever made.  I want to make sure I don't lose this recipe.
Ingredients:
1 1/4 cups warm water (110 degrees)
1 1/2 tsp active dry yeast
1/2 cup honey
2 Tbsp vegetable oil
4 eggs (2 whole eggs & 2 more yolks)
1 1/2 tsp salt
4 cups bread flour
1 1/2 tsp poppy seeds (optional… not in picture above)
Directions
In a large bowl, sprinkle yeast over barely warm water. Beat in honey, oil, 1 egg and 2 more yolks, and salt. Add the flour 1/2 cup at a time, stirring with a wooden spoon after each addition, graduating to kneading with hands as dough thickens. Knead until smooth and elastic and no longer sticky, adding flour as needed. Cover with oiled plastic wrap and let rise for 1 1/2 hours in a warm location or until dough has doubled in bulk.

Punch down the risen dough and turn out onto floured board. Knead for five minutes or so, adding flour as needed to keep from getting sticky. Divide into six equal pieces and roll each into long snake about 1 1/2 inches in diameter. Pinch the ends of the six snakes together firmly and braid (instructions below). Place on a piece of parchment paper (for easier transfer to the oven later).  Recover with plastic wrap and allow to let rise for another hour.

While bread rises, preheat oven (with baking stone) to 365 degrees.

Once the bread has doubled in size, beat the remaining egg with 2 tablespoons of water and brush generously over the braid. Sprinkle with poppy seeds if desired.  Place a pie dish half filled with water in the oven below the stone.  Transfer the bread to the stone (and close the oven door).

Bake at 365 degrees  for about 35 minutes. Loosely cover the bread with aluminum after 15 minutes to avoid a crusty crust.  When the bread is done, it should have a nice light brown hue over most of the surface with white peeking out from between the braids.  It should have a nice hollow sound when thumped on the bottom. Cool on a rack.
Braiding Instructions (6 strand)
This is based on a YouTube video by Northwest Sourdough.
Pinch the top of all 6 strands together at the "top" of the braid.
Lay out the strands such that there is sufficient space between them to allow braiding
Number the strands from 1 on the far left to 6 on the far right.  The numbering will follow the position, NOT the strand.
Pick up strand 1 and move to between 3 and 4 (i.e. the middle slot).  (renumber)
Pick up strand 5 and move to first position (i.e. far left). (renumber)
Pick up strand 6 and move to between 3 and 4.  (renumber)
Pick up strand 2 and move to last position (i.e. far right). (renumber)
Repeat steps 4-6 until the strands are too short to continue.
Pinch together strands to finish braid and then tuck under to hide sloppiness.
Turn braid around and tuck the starting end under the loaf.
For a more polished look, roll the entire braid back and forth a few times to even it out.