As the chapter title of a new bread book I bought asks, "What is it about bread?"  The most basic of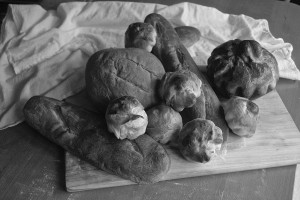 recipes is just 4 very humble ingredients.
Flour.  Yeast.  Water.  Salt.
The process could be fairly quick and simple, or as many as 12 distinct steps and hours from start to finish.  So what is it about bread?  Well, it's not just about the bread itself really.  About 18-24 months ago I got it into my head that I should try baking a brioche.  A decadent bread from France loaded with eggs and butter.  I had found a recipe with beautiful photos of gorgeous bread…the recipe was in French.  My translation skills were fine, but that first attempt was definitely a failure.  I don't remember if it was even edible, maybe we fed the birds and the squirrels with it instead.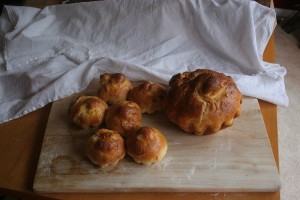 Almost always, when I try a new recipe, I like to follow its directions, which I did.  Do you know how hard it is to mix 2 sticks of butter and 4 eggs into a pile of flour…BY HAND?  It really didn't work out too well.  So after reading other recipes and talking with a brioche connoisseur (my mom), I tried the same recipe again.  And again.  And again.  I tried different flours.  Do you know there's a whole science to flour?  I modified the process.  I gave up for a while…over the summer really, because who wants to do serious baking in the summer?
But I eventually figured it out.  And got a 5 star review, maybe it's really 4 stars but the reviewer might have been biased.  I learned to use the scale correctly (remove protective cushions inserted for care during shipping).  Oops.  Now that I've figured out the recipe, there's no messing with it or the ingredients.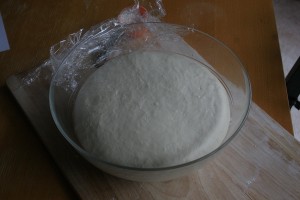 So on to the next challenge.  A French baguette.  Not the kind from the grocery store that's too mushy and not crumbly enough.  No, the kind that comes close to the ones you would find in a boulangerie…a real challenge not having access to the proper flour and a residential oven.  But I'll take the challenge.  Like the brioche, each batch gets better…the shape, the slashes, the texture, the color.  My book has a few different recipes, seeming to result in different levels of "rustic".
But what is it about bread?  I think that for me, this current need to bake started with a little book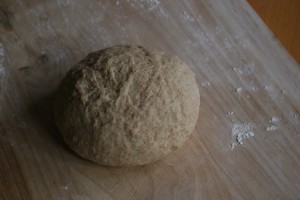 "Bread and Wine: A Love Letter to Life Around the Table."  Not a book I probably would have found myself, but a friend brought it to a meeting and the back cover was intriguing so I borrowed it.  I found myself agreeing with many of the author's points.  I've always loved having people over for a meal.  Sometimes the meals are fancy and on the fine china, sometimes simple grilled burgers and hot dogs, and sometimes in between.  The author is part of a weekly dinner club, every Wednesday a group of friends and their families gather to share a meal.  The stories made me want to do the same, just not on a weekly basis…that's a lot, but monthly is reasonable.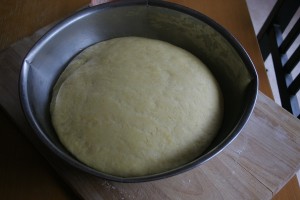 So here we are on month 5 (in a row) of gathering friends around our table for a simple dinner and now I've expanded to baking bread.  And that's what meals and bread are about…feeding friends and family, gathering for fellowship, and taking the time to make and prepare, relax and enjoy.  We've been keeping meals easy to prep.  Big bread baking days, when I get this idea in my head to bake 3 different breads, are not difficult days.  They are slow, messy, and quiet filled with wonderful aromas.  Between kneading the dough and letting it rise there's plenty of time to think and reflect about those who will be fed by it, plans for the future, things you want to do…or not do, or may have to do.
There's something extremely satisfying about making something from scratch with your hands.  Bread starts as flour…yeast…water…and salt.  Over the course of a day, those four humble ingredients will nourish the body and soul of the baker and those fed by the bread.
A pile of goop turns to gold, turns to love.  That's what it is about bread.