99. When you are playing football and you get possession of the ball, you know as well as I do that it is not your business to stick to it too long, although it may be great fun for you to see how long you can play it; you must not play a selfish game, but must do your best with it and quickly pass it on to one of your side.  So it is with any other old thing when it comes your way.  Don't keep it to yourself, but share it with others – "pass it on" to them.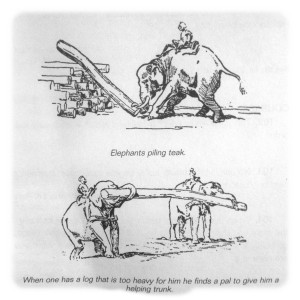 100. In a big movement for a big object there is no room for little personal effects; we have to sink minor ideas and links areas in a big "combine" to deal effectively with the whole.  Co-operation is the only way if we mean to win success.
101. In the South Seas, millions of tiny animals set to work together and gradually build up coral rocks until they make a whole big island.  This shows what can be done if a whole lot of people join together in doing a big work – as the Boy Scouts try to do by practicing friendliness and goodwill one toward another, so that one day all the nations may be friends.
---
Baden-Powell of Gilwell, Robert Stephenson Smyth Baden-Powell – Mario Sica – Nuova Fiordaliso – 2002