32. Camping is the joyous part of a Scout's life.
33. Camping is the great point in Scouting which appeals to the boy, and the opportunity to teach him self-reliance and resourcefulness, besides giving him health.
34. It is in camp that the Scoutmaster can enthuse the boys with the spirit that is required.
35. A camp is a roomy place, but there is no room in it for one chap, and that is the fellow who does not want to take his share in the many little odd jobs that have to be done.  There is no room for the shaker or the grumbler.
36. A Tenderfoot talks of "roughing it in camp"; but living in camp for a Scout who knows the game is by no means "roughing it".
37. The object of a camp is (a) to meet the boy's desire for the open-air life of the Scout, and (b) to put him completely in the hands of his Scoutmaster for a definite period for individual training in character and initiative and in physical and moral development.
38. Every Scout knows that when you break up your camp there are two things which you should leave behind you: 1. Nothing. 2 Your thanks; to God for the good time you have had, and to the owner of the land who has let you have the use of it.
39, When you leave [the camp], leave nothing but your thanks and a good name.
40. In camp life we learn to do without so many things which, while we are in houses, we think are necessary, and find that we can do for ourselves many things where we used to think ourselves helpless.
41. It is only while in camp that one can really learn to study Nature in the proper way, because here you are face to face with Nature at all hours of the day and night.
42.  There is hardly one of the Guide Laws that is not better carried out after you have been living and practicing it in camp.
43. Don't let your camping be the idle, boring picnic that it can become when carried out on military lines.  Scouting and backwoodsmanship is what we're out for, and what the boys most want.  Let them have it hot and strong.
44. Until Troops and Patrols are accustomed to camping, they have not begun to be scouts.
45. Camp is the boy's Elysium and the Scoutmaster's opportunity.  And, moreover, it is Scouting.
46. A camp if is is used merely as an excuse for loafing and slackness is almost worse than no camp at all.
47. My ideal camp is one where everybody is cheery and busy, where the Patrols are kept intact under all circumstances, and where every Patrol Leader and Scout takes a genuine pride in his camp and his gadgets.
48. There is one point I would urge upon those in charge of camps, and this is my old cry: "Look wide", and realize that, to whatever degree it may be perfected, camping is not the end-all of Scouting. It is only one of the steps – though the most potential of the steps – towards our aim of building up happy, healthy, helpful citizens.
49. When I arrived at the arena at Budapest simultaneously with a heavy downpour I was acclaimed once more as "Baden Meister",
I explained to the boys that I had purposely brought the rain in order the better to judge their qualities, as I did not expect them to be entirely fair-weather Scouts.
50. Any ass can camp in fine weather.  The rain reveals the true Scout.
51. Remember, when camping or hiking, that a good deal is expected of Boy Scouts.  You have to keep up the good name of the Movement.
52. A Cub camp is a most valuable opportunity in study of Cubs, for in a few days you will learn more about them than in many months of ordinary meetings, and you can influence them in matters of character, cleanliness and health in such a way as may form lasting habits.
53. Camp is not essential for Cubs as it is for Scouts, and it is far better not to attempt camp at all unless you have all the facilities and experience which are necessary.
A good camp may be of lasting value to your Cubs. A bad one will be a lasting reproach to you, your Pack and probably to the whole Movement.  It is better to train your boys by methods possibility less attractive and slower than to risk this.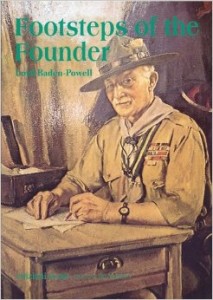 ---
Baden-Powell of Gilwell, Robert Stephenson Smyth Baden-Powell – Mario Sica – Nuova Fiordaliso – 2002