Table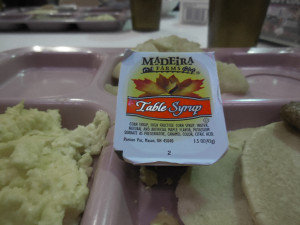 I didn't want to do the obvious, even though today's communion table at Chrysalis (a local Lutheran youth gathering) was beautiful in its simplicity and its personal connection to all those in attendance.
I didn't want to go where I was certain everyone else would go with today's theme, even though the tie to Advent is so obvious.
And then, in what is becoming a theme to this whole experience, the photo for today just dropped into my lap. As we were standing in line to dish up our breakfast trays, I noticed that we were not being served maple syrup (as the image on the label would have you believe), but the highly phonetically similar table syrup.
The communion table is a very rich symbol of our connection with all those who share the experience of Christ. It ties together people across time and space.
But… the breakfast table connects us in a very real way with those around us right now. We chat both about what is important to us and about the mundane. In sharing these things, we live out what it means to be family.