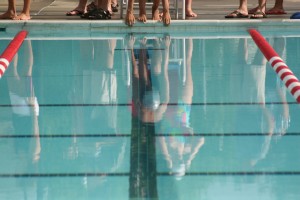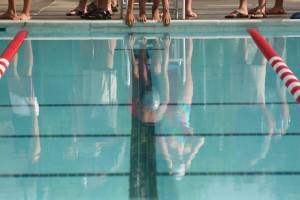 Another summer swim team season has just come to an end.  Here in Montgomery County Maryland, summer swim team season is a BIG thing.  The big summer league has 91 teams, plus there are smaller leagues and country club leagues.  Teams are from private HOA pools, county pools or open membership private pools.  Swimmers range in age from 4-18, though not too many of the 4 year olds are swimming…most are learning.
The season starts just after Memorial Day when practice starts up.  Most swimmers are finished by the 3rd weekend in July, the top swimmers finish the following weekend.  That's 8 weeks.  Once the meets start, our team will participate in at least 16 meets over a 6 week period.  If we have swimmers eligible for the league-wide meets at the end, that's at least 18 meets in 7 weeks.  Oh, and unlike some other sports where a couple of team parents may be the coaches and the league provides a few officials; except for the coaching, swim teams are completely parent run.  We need 16 volunteers for away meets and 33 for home meets…and that's typical.  We're up early Saturday mornings and up late Wednesday evenings.
Is it INSANE?  You bet it's insane?  We've just finished our 10th year.  For the most part, swim team families stay home until August or at least the end of July.
So why do we do this?
Because it's worth it.  Because the more you put into it, the more you get out of it.  Because of the life lessons the kids learn.  Because of the opportunities that can open up to the swimmers.  Because our team is only open to the HOA, it's good for the neighborhood.  What do I mean?  Well, for starters…
Life Lessons
Keep trying…some strokes are difficult to learn, keep practicing and working hard

Do your best…black ribbons are best…our team recognizes EACH personal best time with a black ribbon
It's about the team…even though the events are individual events, Saturday meets are about the team and earn points for the team…you can't always do your favorites
Support each other…keep cheering for your team mates, even if they are last
Do things right, even if you're slow…breaststroke is the most technically challenging and some swimmers take a while to master it.  Sometimes, being slow and last puts you in first because you did it right.
Opportunities
Learn to swim

Big Buddies/Little Buddies…relationships built across the ages
Meet your neighbors…because we are an HOA only pool, everyone on the team is from the neighborhood, and with the kids attending many different schools, it's nice to reconnect over the summer.
Be a mentor/coach…as our swimmers age up, some are invited to be coaches in training.  Several of our swimmers have been our team coaches.  Our pre-team for our youngest and newest members are coached by our older swimmers.  There's a whole set of life lessons here alone.
Here's a story that illustrates it all so well…could be one of those Visa priceless commercials…
Two sisters joined the team and the pre-team program.  This summer they learned freestyle and backstroke.  The older one had to swim 50 meters of freestyle in meets.  That can be daunting for new swimmers.  The first 25m lap was not an issue, but she needed to rest before doing the second lap.  Her young coach-in-training kept up the support and encouragement, figuring out how to work her up to the 2 laps by decreasing her rest periods after the first lap and half way through the second half until the new swimmer could do the 2 laps without stopping.  Success was achieved in practice, time to try it out at the next evening meet.
The young mentor and student waited together at the start line, the one encouraging the other.  Just over a minute to finish that first race without stopping.  Both were extremely excited and proud, couldn't tell you which of the two was more so.  Definitely had to go to McDonald's to get the ribbon and celebrate with an ice cream.  The posted time was fast enough to earn a spot in the next Saturday meet…but first a couple more practices.
The Saturday race didn't go as well, but there were a few more practices and one more evening meet.  Nerves and cold feet were winning out and the young swimmer had lost confidence and didn't want to swim the 50m freestyle.  Oh but her coach-in-training wasn't going to let her off so easily.  It must of been a great pep talk…she braved the 50m again with plenty of support and cheering at the start and finish.  No pauses this time and a personal best time, dropping about 3 seconds.  And big ear-to-ear smiles all around…and a celebratory ice cream cone for that ribbon.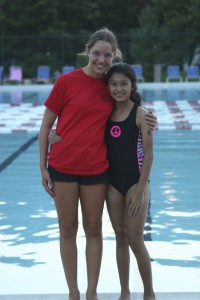 This is why we do swim team.
And there are more stories like this.  The littlest swimmers who start out afraid to put their faces in the water and by the end are going completely under.  The one who is struggling to learn breaststroke and comes in last but earns a second place ribbon because it was finally done correctly and 4 of the other swimmers didn't do it correctly.  The swimmers who set a goal of breaking a record or hitting a benchmark time and finally succeed.  All the belly flop starts that finally turn into dives.  The new swimmer willing to try because he knows his coach will dive in to help him across if he can't finish on his own.  The friendships.  The shared joys and agonies.
This is why we do swim team…summer swim team (I don't think club swimming is the same experience).   Even if we lose every meet.  It's all worth it.  I know many outside this world don't get it and don't even want to be sucked into this craziness…but trust me…it's worth it.
Valerie