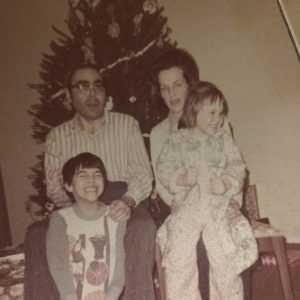 Oh how I hate this photo.
Everyone in it (except my sister) looks either goofy or stoned.  Yet it hangs on our fridge because it is such a rare photo from my childhood years.
I was, for the most part, oblivious to the extent of stress my parents were under as they struggled to understand what my dad's diagnosis of MS (7 years earlier) meant for both our present and our future.  But looking at this photo now, I can see the exhaustion in their faces.
And through it all, they managed to try give my sister and me as full and as happy a childhood as they could.
I still hate the photo, but cannot bear to part with it.